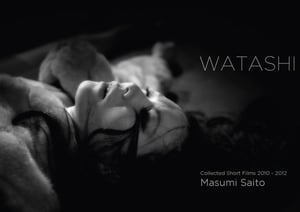 £

6.40
60% OFF SALE!! £15.99→£6.40
A collection of seven short films, WATASHI is the result of a collaboration between movement artist Masumi Saito and film-maker Guy Wigmore. Stepping away from live performance, this project gave Masumi the opportunity to create something both permanent and accessible. Presented new freedoms as well as new challenges, the resulting films on this disk show us a varied and fascinating picture of an artist in motion.
Some of films have been selected and shown at the festivals below:
Now&After'13 International Video Art Festival, Moscow Russia
International Video Dance Burgundy 2013, Burgundy France
Pattern Power 2013 , London UK
映像作家 Guy Wigmoreと身体表現者 Masumi Saito により共同制作された、7つのショートフィルム作品集「WATASHI」。
表現の舞台をステージから映像へと転換し、生身のパフォーマンスをアーカイブすることで、アーティストのイメージする世界をより身近なものにした。
新しい試みと自由な表現を追求することで、アーティストの様々な表情を感じ取れる魅惑的な作品集に仕上がった。



GUY WIGMORE Director
ACHES Music(SE)
THEO ADAMS COMPANY Music (GEKI-JYO)
JORDAN HUNT Music (INORI)
OREN MARSHALL Music (MICHI)
STEPHEN POLYDOROU Music (SOFA)
JUNYA YANAGIDAIRA Music (HITORI)
TOMOHIRO MURAMATSU Make-up (GEKI-JYO) Illustration (SE)
GABRIELLA GOWER Costume (HITORI)



Cover Photo ©Darrell Berry
Length: 33 minutes
Color&Black and White
PAL
Sound:Dolby 2.0 Stereo
All UK deliveries will be sent first class.
International by airmail.